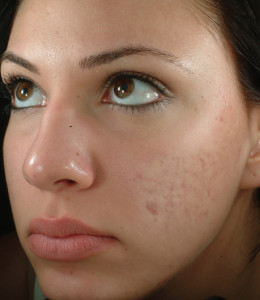 Acne comes in a variety of types and can affect almost any skin type. It has even been known to show up later in life than we may expect.
Although there is no known acne cure, there are products available that will help us fight the effects of acne and create healthier skin for the world to see.
When selecting a product to help fight off acne, it is important to find a natural product that offers results quickly and effectively.
One such product is Exposed Skincare Acne treatment Product.
How to use Exposed Skincare Acne Remedy
Although this management system works much the same way as products like Proactive, there are a few stark differences.
The main difference is Exposed Skincare Acne Treatment offers upto NINE(9) product acne fighting method rather than the traditional 3.

Exposed Skincare facial cleanser: 4.0 fl. oz.
The first step to clear skin is clean skin. The Exposed Skincare facial cleanser is a rich yet gentle face wash that is soap-free, non-comedogenic and hypo-allergenic.
It is packed with skin clearing ingredients including a special formulation of alpha & beta hydroxy acids and sage extract. It removes the oil and dirt from your face while penetrating your pores to kill acne causing bacteria and maintaining your skin's lipid layer.
It does not contain any harsh and irritating detergents such as lauryl and laureth sulfates and is an important step in the Exposed acne treatment system.

Clearing Tonic: 4.0 fl. oz.
The Exposed Clearing Tonic penetrates pores to control blackheads and whiteheads while returning your skin to its natural healthy balance.
The tonic also rejuvenates problem skin with essential extracts and prepares your skin for the Exposed Acne Treatment Serum. Paraben free.

Acne Treatment Serum: 1.7 fl. oz.
The Exposed Acne Treatment Serum is formulated with the latest and most advanced acne fighting ingredients. Helps prevent new acne blemishes and whiteheads.

Clear Pore Serum: 1.7 fl. oz.
The Exposed Clear Pore Serum is a lightweight gel that penetrates pores to control acne pimples and blackheads and rebalance your skin while you sleep.
Natural extracts and antioxidants repair damaged skin for a healthy youthful look.

Moisture Complex: 1.7 fl. oz.
The ExposedTM Moisture Complex is an oil-free gel that locks in moisture and rebalances your skin. Natural extracts and caffeine promote cell renewal and reduce inflammation.

Clarifying Mask: 1.7 fl. oz.
The Exposed Clarifying Mask removes impurities and absorbs excess oil. Helps prevent the development of new acne pimples and blackheads.
Use 1-2 times per week to reduce acne severity and eliminate blackheads.

Microderm Scrub: 1.7 fl. oz.
The ExposedTM Microderm Scrub uses micro-sized corundum crystals to polish away dead skin cells, leaving your skin radiant and smooth while improving its overall texture and appearance.

Probiotic Complex
The Exposed® Probiotic Complex contains natural probiotics designed to balance your body from the inside, essential to achieving clear skin and a strong immune system.
Important vitamins, minerals and cleansing agents work synergistically to support your skin and promote a healthy complexion.

Body Wash
The Exposed Body Wash is a gentle yet exfoliating wash designed to help clear your body of acne.
It combines acne fighting medicine with skin purifying natural extracts. It will not overdry your skin. Sulfate and paraben free.

Derm-X Cloth

The Derm-X Cloth is a great way to improve skin tone, reduce blemishes and firm up those problem areas. Derm-X is a dermatologist approved microdermabrasion cloth that is proven to exfoliate dead skin cells, remove cosmetics, oil, and dirt. It also eliminates blackheads & white heads!
The DERM-X Cloth is great at bringing young and beautiful skin to the surface. Regular use also helps with skin discoloration, sun damage and even minor scarring.
The Derm-X cloth is small but important step in the Exposed acne treatment system.
===>>> CLICK HERE TO BUY NOW <<<===
Does Exposed Skincare Acne Treatment Work?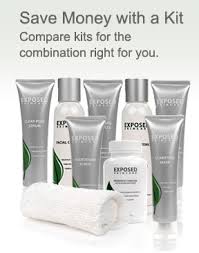 A number of research has been conducted on this product's ingredients, and all with excellent results.
However, the ingredients that are provided by the product are all natural and have been shown to fight acne individually.
Below is a list of the active, natural and scientific ingredients that Exposed Skincare has to offer:

Tea Tree Oil
Helps to improve the skins overall health by eliminating bacteria that can cause acne and other skin issues. Promotes healing as well.

Salicylic Acid
Clears clogged pores

Pro-Vitamin B5
Regulates oil production

Sage Extract
Detoxifies skin

Green Tea Extract
Heals & protects skin

Passion Flower
Reduces inflammation

Azelaic Acid
Normalizes cell turnover

Benzoyl Peroxide
Kills acne bacteria

Licorice Root – Reduces inflammation

Pumpkin Seed – Calms irritated skin

Caffeine – Reduces inflammation

Sulfur + Resorcinol – Kills acne bacteria


Active Charcoal – Absorbs excess oil


Bentonite – Removes toxins + impurities

Corundum Crystals – Removes dead skin

Probiotics – Balance from the inside


Clarifying Minerals – Help normalize skin


Essential Vitamins – Promote healthy skin
Each of these items is used in many various types of acne treatment methods. The unique combination of these natural ingredients that make up Exposed Skincare offer a different approach to the acne fighting system that is not seen in very many other products.
Where Can You Get Exposed Skincare Acne Remedy?
Unlike some other products, you will not find Exposed Skincare Acne Treatment in stores. It is exclusively sold online but can be found on Amazon and EBay. However, it is important to find an affiliate that you can trust because some of the offers on Amazon and EBay may be counterfeits.
Many acne treatment products are available to help you fight acne. Exposed Skincare Acne Treatment is one of many that you may find to be beneficial for your skin type, and an effective one at that.
Be sure to watch out for counterfeits that have the ability to damage your skin and not work as well as the real thing. Acne is the most common skin issue that faces people today and the main reason that people visit a dermatologist.
It is important to treat it correctly so as to avoid permanent damage that can be left behind by acne.